Expanders to Implants 7.8
I found my 1st breast lump on a Thursday night while showering.
Not doing an exam; just lathering with soap. I called my OB GYN doctor the next day and made an appointment for Monday.
I found my SECOND breast lump the Sunday before my appointment; same way; just lathering with soap. After a mammogram, ultrasound, 4 biopsies (1 in my left breast & 3 in right) & an MRI; 6 weeks after my 36th birthday; I was diagnosed with triple negative breast cancer for all 3 lumps in my right breast. The left breast was not cancerous.
Triple negative is an aggressive cancer & my oncologist explained it like "weeds popping up in my breasts" & that I would need to start chemo treatment as soon as possible. I caught is very early on & was consider a stage 2A. It was not in my lymph nodes so radiation was not needed.
I was going on AC chemo followed by Taxol chemo treatment. During the AC portion; it was found that I have the BRCA1 gene mutation which caused my breast cancer & was inherited from dad (I had him tested to see if he is where it came from).

They ended up adding a 3rd chemo to my treatment plan. I was doing chemo for about 5 months.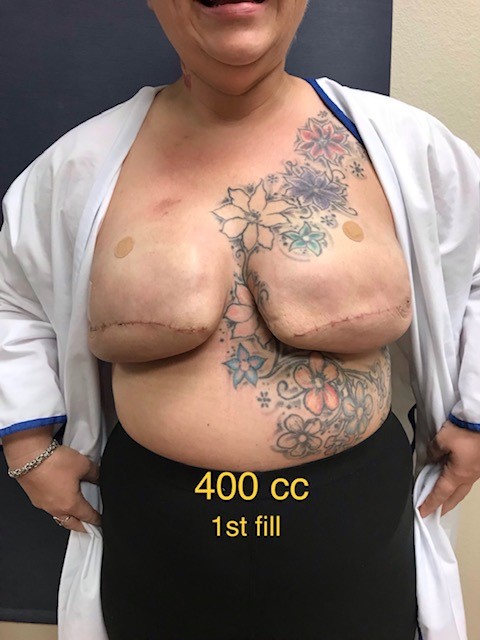 They did a skin sparring double mastectomy with expanders to implants. 
I choose to have the max 800cc implants put in. 
Once I was healed & released by my surgeon to get tattooed; I did! I did a full mastectomy scar cover up tattoo. I went through a local foundation here in Las Vegas called Ink Ribbon Foundation.